Buffers / Bumpers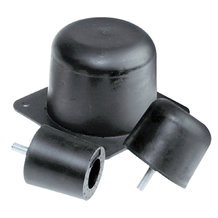 Rubber Buffers / Bumpers
Additional information
Natural caoutchouc rubbers are characterised by their very high elasticity and tensile strength. Other qualities are their notch impact resistance and good abrasive resistance. Among all Elastomers these have the highest mechanical and dynamic load capacities. Natural caoutchouc is not resistant to electrolytic liquids, aliphatic, aromatic and chlorinated hydrocarbons.
Oil and natural gas are the basic materials for synthetic caoutchouc. For many years this has been a substitute material for natural caoutchouc, but today this synthetic caoutchouc is used increasingly as first choice for many applications. Today there are a wide range of synthetic caoutchoucs, whose properties allow a variety of applications thereby, establishing the use of rubber technology within modern methods.
Moreover, rubber is not merely a chemical substance, but a compound of many different materials. The varied mechanical and anti-corrosive properties can only be achieved by a recipe of several hundred substances. Caoutchouc as a macromolecular material provides the elastic components of the rubber. The mechanical properties, such as breaking elongation, resilience elasticity, strength and continuous breaking strength are dependent on it. The addition of chemicals and other additives and the subsequent vulcanization process make the material useful.
The multitude of additive combinations as well as the many physical forms means that for most problems there is a solution.
Product data
Since the rubber buffers are built of a cost effective basic material, our Programme offers an economic solution for most technical requirements. The energy absorption of rubber buffers is limited due to their incompressible material.
Downloads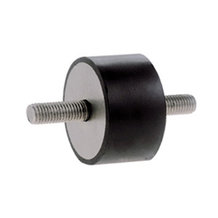 Rubber-to-Metal Bumpers / Buffers
Additional information
The following vibrations are insulated respectively dampened:
Mechanical vibrations caused by components of the system (e.g. electro motor) and abrupt impacts
Impact sound (sound waves, which impact system components
Typical Applications:
Machine frame in conveyor technique
Frame with drive and control units in general engineering
Conveyor systems
Machine tools
Constructions and quality characteristics:
The vulcanization guarantees the highest cohesiveness between rubber and steel.

Rubber to metal rails - metal parts primed, vulcanized to one or two sides
Rubber to metal elements - metal parts yellow aodized, vulcanized to one or two sides
Product data
Rubber-to-Metal bumper elements are used for the vibration-free bearing of dynamically loaded light and medium heavy components. The material is incompressible, resilient, tear and age resistant. Operating temperature from -30° to +70°C.

Downloads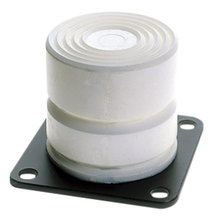 Cellular Bumpers / Buffers
Additional information
Cellular bumpers / buffers are characterized by high energy absorption with long compression lengths. This results in low final pressures and favorable retardation values. Cellular buffers are made from a cellular Polyurethane Elastomer with high structural resistance. Their principal quality is the volume compressibility, which is responsible for their relatively low transverse expansion during load application. Cellular buffers are resistant to aliphatic hydrocarbons, such as oil and grease, and against ageing. A general resistance can therefore be assumedfor technical applications.
The cellular buffers are not resistant to strong acids and leaches. The operating temperature is between –20°C and +80°C.
Generally special types are only offered and supplied on request. If cellular buffers are mounted over 3 m high they have to be secured by installation of safety ropes.
Material of the cellular body
Standard quality
Cellular Polyurethane Elastomer with volumetric weight 0.53 g/cm³
Special quality
For dynamic load and high elasticity
Special volumetric weight 0.35 g/cm³ (soft) to 0.65 g/cm³ (hard)
Product data
Due to their excellent properties of energy absorption the cellular buffer Programme is a suitable complement to the rubber buffer Programme. Their volume compressibility allows long compression lengths, which allows very good retardation values.
Downloads